ZPT-VR The VELOCIRAPTOR II
The Velociraptor II is an all-rounder for more fragile fossils in either hard or soft rock. The Velociraptor is capable of moderate matrix removal without transmitting too much vibration into the rock. It has an enormously wide operating pressure range (and is supplied with its own pressure regulator) - which means you can do anything from moderate matrix removal to finishing work under the microscope. The Mark II is the bigger brother to our precision air scribe - the Microraptor - with a lot more power behind it.
Weight: 140g (5 oz)
Dimensions: 140mm length, 15mm max diameter
Optimal Working Pressure: 2.5-6.2 Bar (36-90PSI)
Air Consumption: 6lpm (0.2 CFM)
Noise: 75 dB(A)
Vibration: 5.29m/s2
Connection: 2m polyurethane hose (or braided hose) + Quick Connector
On/Off Mechanism: Festo Ball Valve
BPM: 30,000BPM at 6.3 Bars (90 PSI)
Adjust the pressure with the supplied pressure regulator (between 2.5-6 Bars) and you'll have either more precision or more power. You can reduce the airflow by adjusting the ball valve. This level of flexibility is unique to the Velociraptor making it incredibly versatile.
It has a beautiful, cushioned feeling thanks to our unique Air Cushion Technology. This enhances the control that you have, limits the vibrations to the rock and makes the Velociraptor super comfortable to use. You can feel every change in hardness of nature of the rock through the handpiece, allowing you amazing precision and sensitivity.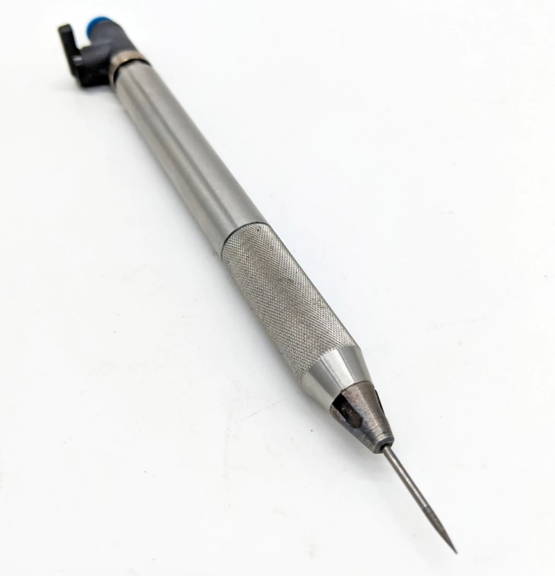 Complete with our unique Air Cushion Technology

Long-reach Tungsten Carbide Stylus (stoneworking grade)

Hardened, precision fit stylus guide bushing (no wobbly stylus!)

Full frontal exhaust with modified air galleries to reduce noise. (Diffuse exhaust available on request for working with extremely fragile fossils)

Ultra-grip knurled handpiece

Extremely low air consumption

Exceptional results on all rock types
If you are a beginner and looking for your first air scribe, and mostly preparing softer rocks (clays, chalks, shales, sandstones) or fragile fossils such as fish, vertebrates, crustaceans, friable ammonites; this is the perfect tool for you. It is similar in terms of power to the Trilobite (at maximum pressure it is more powerful), but is much more versatile and has dramatically increased sensitivity. This style of air scribe is particularly popular with preparators working on vertebrates from the USA.
This tool uses a pusher-plate mechanism, which requires higher input pressure than some of our other tools, but achieves finer results and is excellent for delicate work. This tool is best used with minimal force - i.e. let the air scribe do the work! The stylus is very thin and delicate so that you can get the best results, but this also makes it fragile if not used correctly. The airflow is directed onto the fossil, keeping the surface dust free.
This small tool lends itself to the utmost control. With in-built Air Cushion Technology, this tool has a very soft and refined feel as it first touches the matrix, making it resilient to kick-back even on hard rocks. With an ultra-grip knurled handpiece, it sits perfectly and lightly in your hand.
Packaged in a wooden presentation box: User Manual, Pressure Regulator, Particulate Filter, 2m polyurethane air hose (or upgrade to premium extra flexible braided hose) with Quick Connector, Air Tool Oil, Silicone O-Ring Grease, 1x protective scribe sleeve, Maintenance pack of spare pusher-plate o-rings.
Warranty: 24 month warranty covering manufacturing faults and defects.
How does the ZOIC PalaeoTech Microraptor compare to other fossil preparation tools?
Our raptor series of tools are pusher-plate driven. The Velociraptor is similar in terms of power and size to the old Aro air scribes or the ST, but behaves completely uniquely allowing you the ultimate control. It has a significantly more refined feel and is an absolute joy to use. The ZOIC PalaeoTech features are optimal for fossil preparation, with usability front and foremost in mind. Our unique Air Cushion Technology gives the Velociraptor a refined feel, where you can truly sense how the matrix is behaving at the point where the stylus and the rock meet. This Air Cushion Technology enhances control, prevents stalling and prevents 'kickback' (some brands of tool will jolt backwards if too much pressure is applied). The hardened stylus bushing has a precision fit with the stylus, meaning that your stylus will always be where you want it to (with no wobble); and you won't see any wear for years and years to come. The stroke length is extremely well controlled and very dependable. The Velociraptor has very low vibrations, remarkably low noise and exceptionally low air consumption (by far the lowest on the market for a pusher-plate driven tool). Learn more about how to choose an air pen and how the ZOIC PalaeoTech Velociraptor fits as the most delicate of the ZOIC PalaeoTech tools here.
THE ZOIC PALAEOTECH QUALITY THAT YOU KNOW AND TRUST
We manufacture each tool right here in Dorset, and take enormous pride in our workmanship. Each tool is quality controlled before it leaves our workshop. Dependability, reliability, innovation and function are at the heart of what we do. We want for our tools to see you through whatever you may throw at them, and for you to enjoy using them. We want them to be quiet, comfortable and a real pleasure to use. Your satisfaction means everything to us, and if you are not satisfied, we want to know about it.
We design our tools to be low maintenance, requiring very little user input. If you look after your tools, they will look after you! When you buy from us, we want you to know that you will always have the best service we can give you. Being unique products, it is important that you know we will be on hand for many decades to come with a full supply of spares.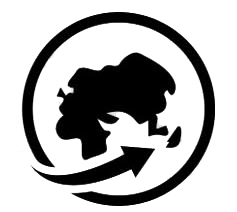 UK & International Shipping Options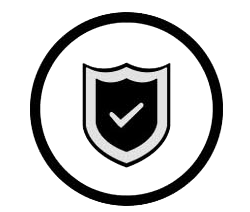 Worry-Free Warranties on all Air Pens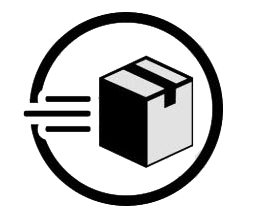 Spares on hand for immediate dispatch