Optimal Operating Pressure: 2.5 Bars-3 Bars (36-43 PSI)

Recommended Pressure Range: 0.5-3 Bar (7-45 PSI)
Weight: 250g (8.8 oz)
Dimensions: 180mm length, 26mm maximum diameter (7" long, 1" diameter)
Air Consumption: 5 lpm (0.17CFM)
Noise: 72-75 dB
Vibration (3mm Rounded Chisel, 2.5 Bars/36 PSI): 4.6m/s2
Vibration (3mm Point, 2.5 Bars/ 36 PSI): 7.3m/s2
Connections: 2m hose + Quick Connector
On/Off Mechanism: Ball Valve
BPM: Variable 5,000-8,000 depending on stylus/pressure
The ZPT-TR is a super low air consumption and low pressure air pen. It works on an impact driven system (sometimes called a pneumatic hammer) designed to deliver powerful matrix removal with an ergonomic design.
With multiple interchangeable styli available (comes with 3mm chisel or a 3mm point with other options purchasable separately), it is truly a versatile tool that can achieve initial roughing all the way through to finishing work. It will save you TIME and MONEY on operating costs. These tools truly are the state-of-the-art technology in the fossil preparation world.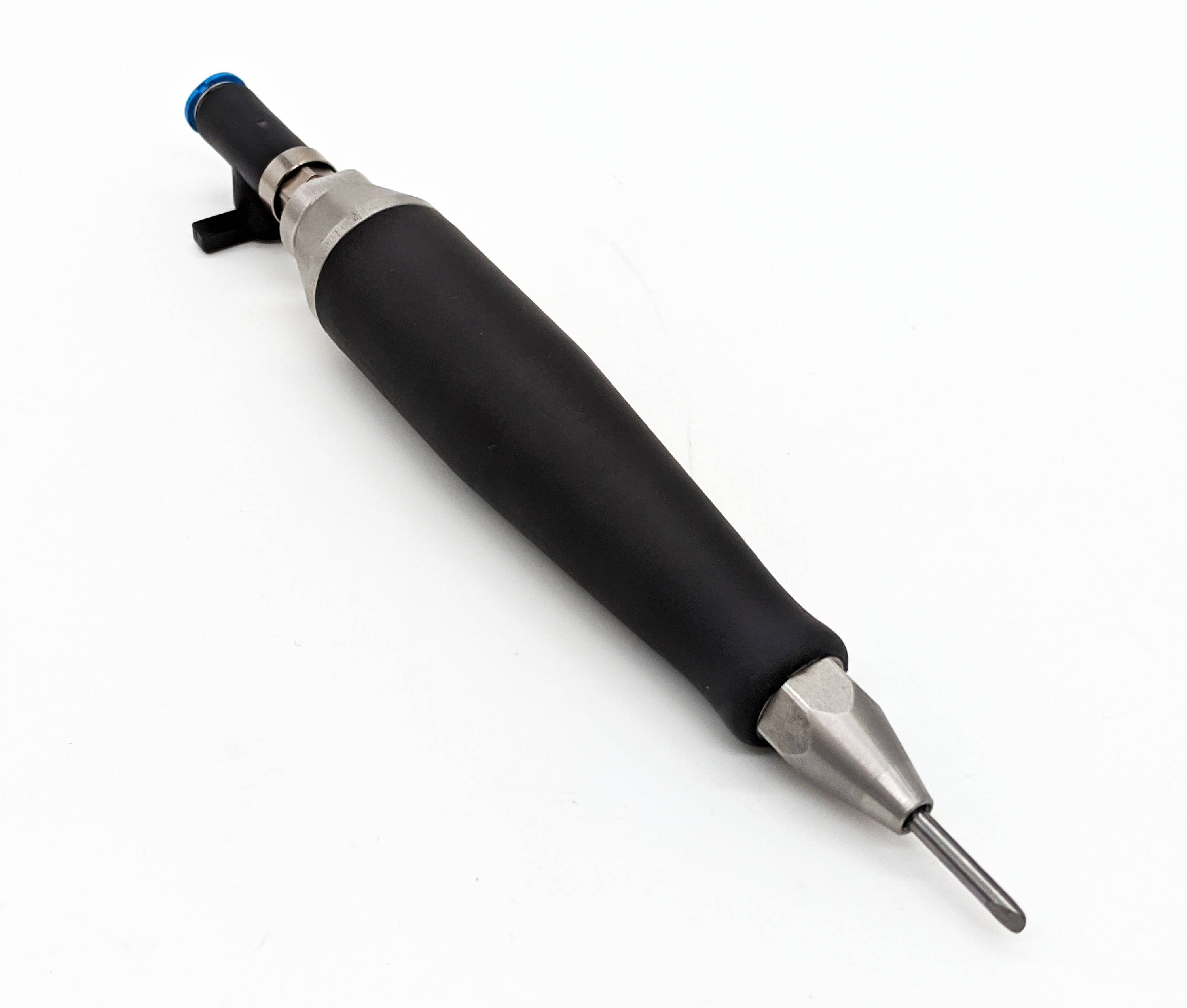 Great for 'sticky' and pyritic rocks

Supremely powerful, packing a real punch for its size

The LOWEST air consumption (as low as 5lpm or 0.17cfm)

Range of interchangeable styli (including 3mm chisel, 3mm pyrite chisel, 3mm point and 1.5mm point)

Nominal operating pressure of just 2.5 Bars (36 PSI)

Rubber coated for thermal insulation and vibratory dampening

Really bites into the rock, making your job easy and enjoyable
A whole range of interchangeable styli
The interchangeable stylii (pointed tip, chisels, etc.) come in different diameters so that it really is the most versatile tool and will provide you with excellent value for money. This will see you through from roughing work and matrix removal all the way to the final stages of micropreparation and finishing work. We are also able to make custom styli on request specific to your requirements (e.g. extra long).
Raise the pressure to 2.5 or 3 Bars with the 3mm chisel or pointed stylus and you will have the full impact force of the piston at your disposal for removing large amounts of matrix. Switch to the optional 1.5mm stylus and you will have less power in exchange for a much larger number of beats per minute. A pyrite chisel geometry is also available, designed to cut through heavily pyritic rock. With either the 3mm styli or 1.5mm stylus you can adjust the power of the TR by controlling the pressure with the supplied regulator.
The forceful impacts on the piston and the lower beats per minute (as compared to higher pressure tools) provide an action that lends itself to creating microfractures and 'popping' matrix away from a fossil. The T-Rex is particularly effective on 'sticky' rocks, and with the 1.5mm stylus becomes highly workable on much smaller fossils.
THE ZOIC PALAEOTECH QUALITY THAT YOU KNOW AND TRUST
We manufacture each tool right here in Dorset, and take enormous pride in our workmanship. Each tool is quality controlled before it leaves our workshop. Dependability, reliability, innovation and function are at the heart of what we do. We want for our tools to see you through whatever you may throw at them, and for you to enjoy using them. We want them to be quiet, comfortable and a real pleasure to use. Your satisfaction means everything to us, and if you are not satisfied, we want to know about it.
We design our tools to be low maintenance, requiring very little user input. If you look after your tools, they will look after you! When you buy from us, we want you to know that you will always have the best service we can give you. Being unique products, it is important that you know we will be on hand for many decades to come with a full supply of spares.
The ZPT-TR is a impact-driven design using an internal piston which reciprocates within a cylinder. This design does not use any springs for the return stroke and so the required air volume and input pressure are lower than the pusher-plate designs. This piston, at one end of its stroke, hits the anvil to which the stylus is attached and which is supported between o-rings ensuring oprtimal transmission of the impact force to the matrix.
The pressure can be adjusted at the point where you plug in the tool using the pressure regulator, circumventing the need to adjust it at the compressor itself. This means you can have all your tools plugged in and operating at their normal running pressure at the same time as running the T-Rex.
Customer and professional preparator feedback is truly excellent, with many people amazed by the sheer power of this little tool and the way it 'bites' into the rock without bouncing back. The T-Rex truly is our pride and joy.
Packaged in a wooden presentation box. Box includes: 3mm tungsten carbide point stylus or 3mm tungsten carbide chisel stylus, 3 spare stylus O-rings, 1 spare anvil O-ring, pressure regulator, silicone o-ring grease, tool oil, inline air filter, 2m polyurethane hose (or upgrade to 2m flexible braided hose), user manual, 1x protective scribe sleeve.
We often get asked how the tools run at such low pressures, and why can't you just run the T-Rex at higher pressures like normal air pens (6 Bar/90 PSI)? The T-Rex is incredibly powerful, and should it be raised to operating at 90 PSI or 6 Bars, the impact energy would be so enormous that it would most likely shatter the tungsten carbide stylus. For instance, the T-Rex running at 2.5 Bars (36 PSI) is probably 3-5x more powerful than the ZPT-CP or the ZOIC Chicago (modified CP 9361) running at 6 Bars (90 PSI).
OTHER CUSTOMERS ALSO PURCHASED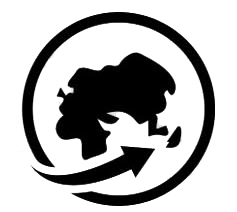 UK & International Shipping Options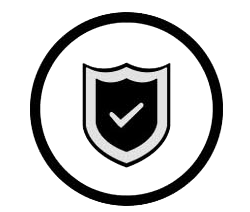 Worry-Free Warranties on all Air Pens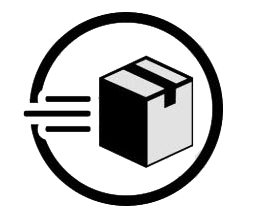 Spares on hand for immediate dispatch