New to air abrasives? Read our guide here!
The Vaniman Mobile Problasts offer fossil preparators a quality air abrasive system, at an affordable price. Interchangeable tanks and nozzles allow you to switch up your abrasive blasting media as often as you like, from 25-250μm.The Vaniman Air Abrasive Units are professional standard, rivalling the performance of units 10x the price! The I/O or 'Insta-Off' mechanism is a pinch valve that stops powder flow the moment you take your foot off the pedal (available with the Master Mobile Problast Unit).
This is an exceptionally versatile unit produced by Vaniman and made in the USA, for sale via ZOIC PalaeoTech. This fantastic unit is what you need for the preparation of a wide variety of fossils, with enormous flexibility at an economical price. Perfect as a standalone unit for the hobbyist or as a compliment to your existing air abrasive setup, allowing you to utilise different air abrasive powders without having to clean out the tank.
The two different Mobile Problasts - what's the difference?
The air abrasive powder flow is control by a foot pedal. Depress the pedal and powder flows, lift your foot off and it stops. The Master Mobile Problast differs from the Mobile Problast in its I/O (Insta-Off) mechanism, allowing for ultimate foot pedal control. The Mobile Problast will have some pressure bleed off and therefore powder flow through the nozzle when the foot pedal is released.
THE MASTER MOBILE PROBLAST
Not fitted with a pinch valve or 'Instant-Off' Mechanism

This means that when you lift your foot off the pedal, the powder flow gradually bleeds off until it stops over a few seconds.

Not quite the same level of control, but the price is cheaper than the Master Mobile Problast.
ALL ABOUT THE MOBILE PROBLASTS
Built-in pressure delivery system including a 0-100PSI (0-6.8 Bar) adjustable filter regulator and foot pedal control. Recommended for use between 20-90 PSI (1.5-6.2 Bar); you'll find a sweet spot depending on the powder and your application. The Vaniman Units operate at much lower pressures than others in the same price bracket, allowing you much more precision and control when working on more fragile or delicate fossils where low pressure is essential.

Handles all types of blasting media from 60 to 360 grit (25-250μm, 50-100μm tank size supplied as standard with base unit. 25-50μm and/or 110-250μm tanks can be purchased as optional extras). Change the tanks as often as you need, utilising the same base unit.

Can be used with our

Aluminium Oxide

(53μm in the 50-100μm tank), Sodium Bicarb (match the grain size to the tank),

Iron powder

(150μm in the 100-250μm tank) and

Dolomite

(40μm in the 25-50μm or 50-100μm tank). Note that dolomite can be a bit temperamental in abrasive units costing less than about £3-4k due to the nature of the powder (although many preparators get used to this and have a few tricks up their sleeve -we find filling the tank 2/3rds full, tilting it slightly and agitating it works for us!)

Designed for pinpoint accuracy on small or hard to reach areas via a variety of durable pencil point nozzles. Comes with a long-lasting crystal tip nozzle, and tungsten carbide nozzles can be ordered separately for higher precision (but they do wear faster).

Maximum longevity and maintainability with no metal wear points from the tank to the nozzle and "quick change" hose fittings.

Convenient 6-foot handpiece hose. Anti-static and super flexible. This is a consumable part, which you will need to replace with use. With moderate usage, you can expect a year or so out of one piece of tubing.

Incorporates a hose purging system between uses.

1-year Warranty from Date of Purchase
What's in the box? Complete abrasive unit with frame, 50-100μm tank, connector tubing, water trap, nozzle fitted with crystal embedded tip. (We include a FREE 2m hose and PCL or EURO connector so you have everything you need to plug straight into your compressor). Mobile abrasive blasting system with one tank for all applications. System only – No Cabinet included.
Remember the grain size of your powder must be matched to the grain size listed on the tank, which must be matched to the diameter of the nozzle in your handpiece. Without doing this, you are much more likely to experience clogs in the lines. One of our favourite combinations (for accuracy and ease of use) is the Blue nozzle, running 53 micron Aluminium Oxide through a 50-100 micron tank.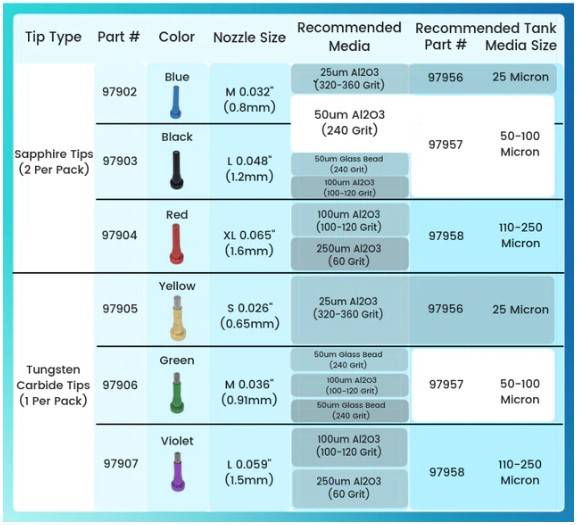 Must be used with a clean, dry air supply and dry abrasive powders. We recommend using Dropout® air filters. If you don't have a clean air supply, do not expect any abrasive unit to work effectively. The unit is fitted with a automatic drain water trap, but we recommend using considerably more mechanisms to make sure your air is dry.
Must be used with a blast cabinet (not provided) and dust extraction system. These can be bought online in the dimensions of your choosing, or alternatively can be put together to your specifications as a DIY project or by a tame carpenter. Any questions, feel free to contact us.
Please make sure that your air compressor is compatible. Air abrasive units typically require a medium-large sized air compressor with a good air output. We do not recommend running a Vaniman Unit on a 24l compressor. Some 50l compressors are appropriate if they are adequately powerful, but please bear in mind that a silent 'budget' air compressor will be underpowered and burn out quickly. If silent is a requirement for you, you're looking at the Bambi Air range for a suitable air output to run air abrasives (we LOVE the Bambi PT90!).
PRODUCTS & ACCESORIES COMPATIBLE WITH THE VANIMAN MOBILE PROBLASTS