REMOVE 99.9999% LIQUID, PARTICULATES & VAPOURS FROM YOUR AIRLINES
Dropout© is a unique, scientifically engineered, patent protected multi-stage Compressed Air Filter that removes 99.9999% of Liquid (Water & Oil) and 99% of solid particulates down to 1 Micron.
Dropout® has the ability to maintain its performance levels during start up where it reaches optimum performance in a fraction of a second, perfect for those systems operating with a pinch valve or switching on and off frequently (e.g. paint spraying). Most separators rely on constant and stable flows.
This unique multi stage Compressed Air Filter requires NO Replacement Filters, and once fitted, the ongoing servicing costs are ZERO.
The Dropout filter serves as a standalone replacement for water separators and/or coalescing filters.
This is a 'Compact' Dropout® unit and is used as an in-line point of use liquid water separator, oil and contaminant remover. It is used in a wide range of applications and flow rates. It will work at its best if placed as close as possible to your tooling (i.e. within 2m).
How do Dropout Air Filters Work? Watch the video!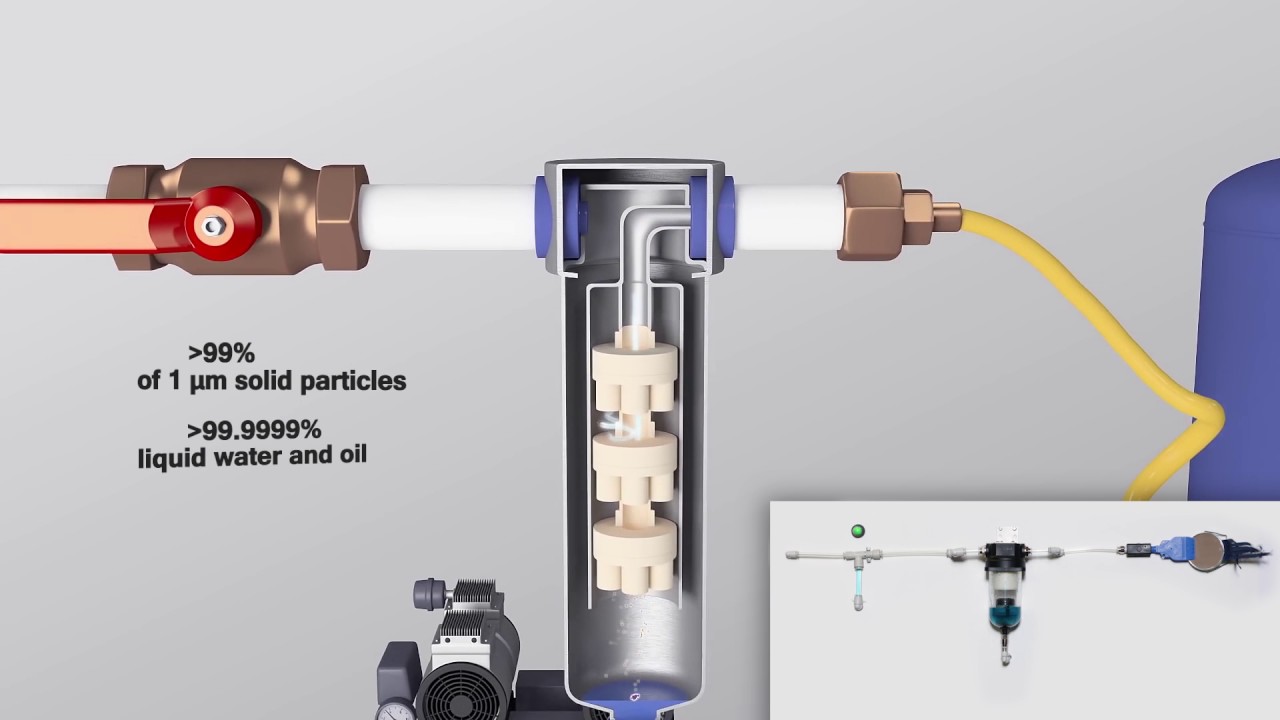 15CFM rated flow rate for DO00150 (more than sufficient for most fossil preparation needs)

15 bar(g) maximum pressure

1/4" BSPT inlet and 1/2" BSPT Outlet

1 Micron particulate removal (>99
Dropout Technology has been subjected to independent tests and is certified to ISO12500 Parts 3 & 4.
No increase in pressure drop caused by blocked filters

Performance does not depend on the compressed air having a stable flow rate or high velocity.

Operates far more efficiently than traditional air cleaning products.
Dropout's unique patented compressed air water removal technology solves contamination problems where other products fail.

Where it's required to remove the last scraps of oil vapour, when using abrasive powders like dolomite and iron powder that are very moisture sensitive, a Carbon Filter is a game-changer.
With an activated carbon cartridge inside, the surface area within this Carbon Filter will pick up anything that the Dropout Filter has missed, and with a Dropout Filter ahead of it, you won't be replacing the cartridge any time soon. Fitted with an inbuilt auto-drain, this is a fit-and-forget product (for at least a few years).

THE DROPOUT FILTER KIT by ZOIC PalaeoTech
At ZOIC PalaeoTech, we discovered that the perfect air filtration system was difficult to come by at a fair price. We worked with Dropout© to put together an air filtration kit perfect for the demands of the fossil preparator. It's simple, effective, compact and the best value for money possible. We provide our kit with spacers for easy mounting, and all the connectors required.
With a pressure regulator, Dropout© filter and carbon filter, this is all you need to deliver the cleanest, driest air for your air abrasive unit(s). The Dropout© filter takes out 99.9999% of water and particulates from the system, and the carbon filter gathers up the last remaining shreds of oil (if you have an oiled compressor).
All the protection you need in one convenient set up; instead of having to purchase & maintain a multiplicity of different products. This kit offers extremely high performance and an ALL IN ONE solution.
Connections: We supply the kit as standard with the adjoining fittings, but not with inlet/outlet fittings. These are available to purchase as an option with the hose, push fits and male + female Euro/PCL connectors. If you decide to purchase the filter kit without these fittings, you will need a 1/4" BSPT connector for the inlet at the regulator end, and a 1/2" BSPT connector for the outlet at the point of the carbon filter. The DO00300PA Dropout Filter alone has 1/2" BSPT connections.